Dielectric Resonator Type Microwave Dielectrometer
Dielectric Resonator Type Microwave Dielectrometer measures permittivity (Dk) and dielectric tangent (Df) of low loss materials in microwave frequencies. By using the measurement software, complex permittivity of low loss dielectric materials can be simply and accurately measured. The method is established by IEC (International Electrotechnical Commission) 61338-1-3 and JIS (Japanese Industrial Standards) R1627.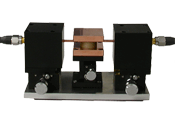 A dielectric resonator is configured by inserting the sample between two conductor plates.
Features
Fast and accurate
Easy to operate
Stable
System components
There is only one type of components: network analyzer type. This type should be used with a network analyzer of your own.
Network analyzer type consists of:
a dielectric resonator, a customized software, and accessories.
(Neither PC nor network analyzer is included)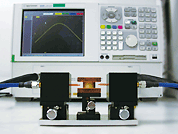 Specifications
 ( Provisional Figures )
| | |
| --- | --- |
| Frequency range | max. 20GHz |
| Measurement range | ε: 5 - 200   tanδ: 0.00001 - 0.001 |
| Max. measurement error | ε: ±1%   tanδ: ±5% |
| Sample Shape | cylindrical, toroidal |
Related product