Wireless Three-Axis RF Magnetic Sensor
Wireless magnetic field sensor

Features
Small size, light weight, wide dynamic range, high accuracy
High sensitivity, can measure signals as low as 0.1nT
Multiple sensors can be used for simultaneous measurement
3 axes (X, Y, Z) of each sensor can be measured simultaneously
Spectrum analyzer, oscilloscope, test cables unnecessary
Applications
125kHz, 134.2kHz Smart key system
Specifications
 
Specifications
Conditions · remarks
Measurement frequency
125kHz、 134.2kHz ※1
Dynamic Range
86dB
0.1nT - 2000nT Magnetic flux density (T)
Unit
nT、 μT、 mT、 dBμV/m
Measurement Software (Electric field intensity is converted to far field)
Accuracy
Within ±5%(1nT - 1000nT)
Accuracy for 0.1 - 1nT range within ±10% (same for < 1000nT)
Certified calibration
A2LA certificate and traceability (Option)
Measurement signal
Non-directional: Supports CW, burst signal
Supports arbitrary burst signal
Frequency/Communication system
2.4GHz band
IEEE802.15.4、ARIB STD-T66 ※3
Software
Excel VBA
Windows OS
Battery
Built-in secondary battery (Lithium-ion battery, charging with micro USB cable)
Temperature range
-10℃  -  50℃ (Accuracy coverage 25℃ ± 10℃)※4
Outline dimensions
W 55mm × D 19mm × H 24mm Weight 20 grams
※1  Standard sensors support 125kHz and 134.2kHz but can be customized for other frequencies.
※2  Caution: Measurement less than 1nT is susceptible to external noise.
※3  Wireless technology conformity certification also applicable in Europe, USA, etc. Please contact us if using outside Japan.
※4  Please contact us if sensors will be used in temperature environment other than 25℃.
High accuracy measurement over a wide range
Supports burst waves of any pattern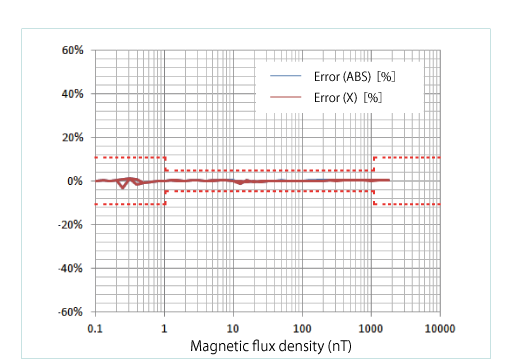 Measurement accuracy example of CW wave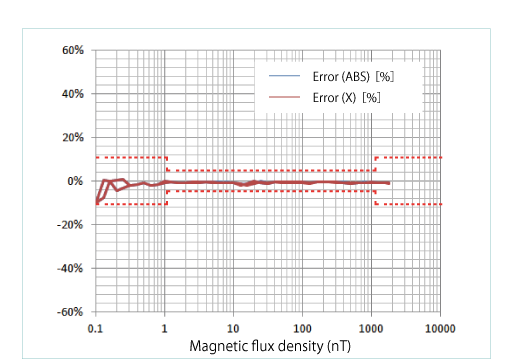 Measurement accuracy example of Burst wave
※Please contact us for desired burst pattern
A2LA certified calibration available
Constant magnetic field generator for calibration (Helmholtz coil)
Z axis, X axis calibration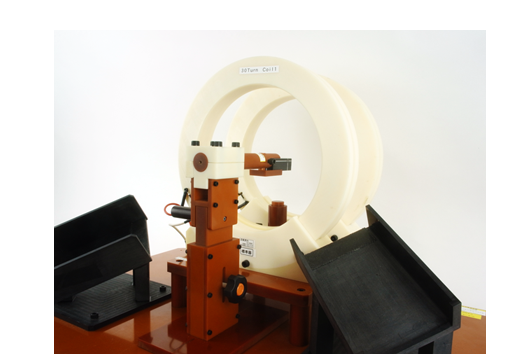 Y axis calibration