High Voltage Cable, HV Termination, Feed-Through Bushing
High Voltage Cable
Essex X-Ray are specialists in the design and manufacture of High Voltage cable assemblies, and interconnects for all types of HV applications, which include: Medical and Industrial X-Ray, NDT, Inspection, Electron Beam Welding, Pulsed Power, Fusion, Plasma Research and Particle Physics.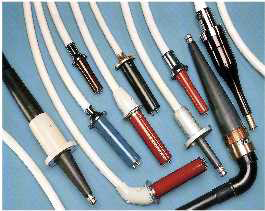 High Voltage Termination, Feed-Through Bushing
High voltage cable terminations, triaxial, split joints and feed-through bushing manufactured by Isolation Products, Inc. are utilized in worldwide companies and institutions, such as Los Alamos National Laboratory in the US. The units such as feed-through or epoxy-insulators can be designed and manufactured to meet customer requirements.