RF Gun
The RF Gun uses microwave energy to produce and accelerate electrons in a high electric field.
AET has researched and developed various RF Guns such as a RF Gun with a thermionic cathode, a triode type RF Gun and a Micro Miniature RF Electron Gun using a coaxial resonator.
The triode RF Gun is an epoch-making product which is able to eliminate the back bombardment phenomenon, reduces emittance of the electron beam, and enables control of pulse width simultaneously.
The novel Micro Miniature RF Gun with a diameter of 5mm can be used as an electron or X-ray source for industrial and medical applications.
π⁄ 2 Mode Side Coupled RF Gun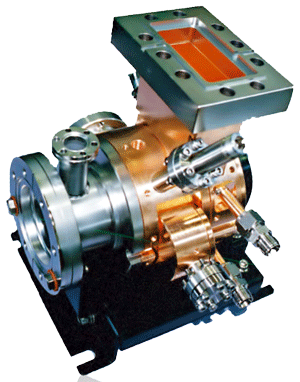 Specifications
| | |
| --- | --- |
| Structure | Side coupled standing wave type |
| Acceleration Frequency | 2,856MHz(@30℃ - 45℃) |
| RF Coupling | β=3.0±0.5 |
| Shunt Impedance | 90MΩ⁄m |
| Beam Energy | 2MeV |
| Beam Current | 500mA |
π⁄2 Mode On-Axis Coupled RF Gun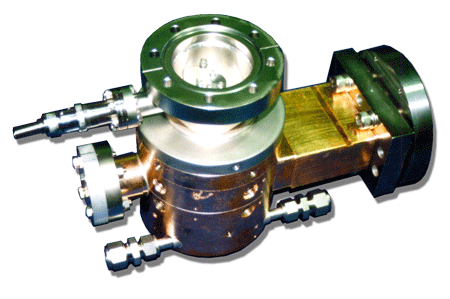 Specifications
| | |
| --- | --- |
| Structure | On-axis coupled standing wave type |
| Acceleration Frequency | 2,856MHz(@30℃ - 45℃) |
| RF Coupling | β=2.5±0.5 |
| Shunt Impedance | 60MΩ⁄m |
| Beam Energy | 2MeV |
| Beam Current | 1A |
Multi-feed Multi-cavity RF Gun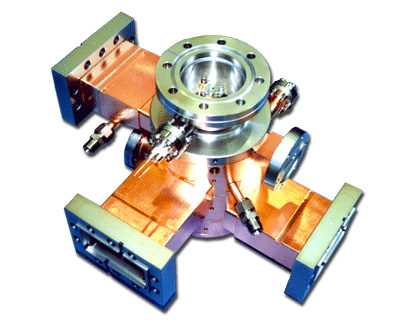 Specifications
| | |
| --- | --- |
| Structure | Multi-feed multi-cavity type |
| Acceleration Frequency | 2,856MHz(@30℃ - 45℃) |
| RF Coupling | β=2.0 - 4.0 |
| Shunt Impedance | 55MΩ⁄m |
| Beam Energy | 3MeV |
| Beam Current | 500mA |
λ/4 Coaxial Resonator Type RF Gun
Micro-Miniature RF Gun
Specifications
| | |
| --- | --- |
| Structure | λ/4 Coaxial Resonator |
| Frequency | 2856MHz |
| Cathode Diameter | 1mm |
| Cathode Material | CNT |