RF Measurement Service
AET, Inc. offers you the measurement services for RF/microwave devices and circuits, taking advantage of our experience and expertise in electromagnetic fields.
Mixed-mode differential s-parameter characterization using 4-port vector network analyzer
S-parameter measurement using vector network analyzer ( < 50GHz)
Creation and measurement of TEG using coplanar probe
Measurement using spectrum analyzer (23GHz)
Calculation of inductance and capacitance using s-parameter
Creation of calibration modules and test fixtures based on LM/LRM methods
Impedance Measurement Example
The Probe Station System equipped with the Air Coplanar Probe provides the impedance measurement of a microstrip line.
Sample
Microstrip line, length: 30 mm
FR-4 substrate, thickness: 0.2 mm
Measurement frequency: 300 MHz
Tools used in this measurement:
Measurement equipment: Probe Station AGPS501 (AET)
Calibration: Calibration Kit
Measurement probe: Air Coplanar GSG (Cascade Microtech)
Impedance analyzer: E4991A (Keysight Technologies)
Probe Station (AET)

Probe (Cascade Microtech)
Inductance Calculation Example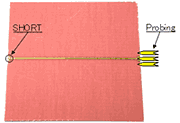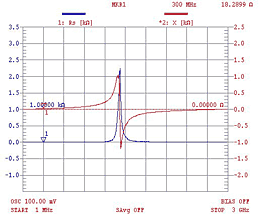 ( Example 1 )
Measurement example: Zo=R+jX(Ω)
At 300 MHz, Zo = 0.223+j18.2899(Ω) Z(im)=jωL
Inductance L=18.2899÷(2π×300e+6) =9.71nH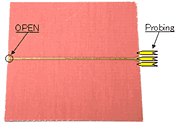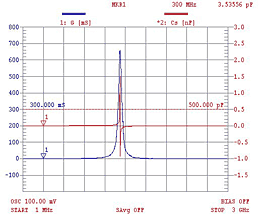 ( Example 2 )
Measurement example: Zo = G + jX(Ω)
At 300 MHz, Zo ≒ 0.00021-j150(Ω), Z(im)=1⁄jωC
Capacitance C = 1 ÷ (150 × 2π × 300e+6) = 3.53 pF
Applications
Spiral inductor impedance measurement
PCB internal capacitor thin film dielectric
RFID Antenna
IC package, memory stray capacitance measurement
Disc, magnetic head
System Construction
In addition to sample measurements, we offer the service of designing an impedance measurement system.
System Configuration
Probe Station AGPS501 (AET, Inc.)
Impedance Analyzer (Keysight Technologies, Inc.)
Measurement Probes (Cascade MicroTech, Inc.)
Calibration Kit (AET, Inc., or Cascade MicroTech, Inc.)
AET, Inc. is a Solution Partner in Japan of Keysight Technologies, Inc.We offer impedance analyzers and other measuring equipment at modest prices.