Open Coaxial Resonator Type Microwave Dielectrometer
PATENT No.3691812
Open Coaxial Resonator Type Microwave Dielectrometer makes accurate measurement possible using an evanescent mode of an open coaxial resonator, which acts as a measurement probe.
When a sample material is placed on the probe, the evanescent electrical field leaks from the probe tip into the sample material. This electrical field changes with the dielectric properties of the material, which in turn changes the resonant frequency and the Q-factor of the whole cavity. The dielectric properties are then calculated from the changed resonance. The highly accurate measurement algorithm to compute the complex permittivity, uses the electromagnetic-field distribution and resonant characteristics of the evanescent mode computed by the 3D EM-field simulator, "CST MICROWAVE STUDIO".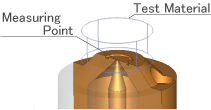 Electric field distribution near the measuring point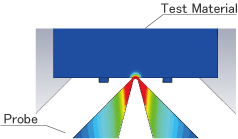 Coaxial resonator
The technical article regarding the measurement principle of this system was presented in the IEEE Microwave Theory and Techniques.
R. Inoue, et al., "Data Analysis of the Extraction of Dielectric Properties From Insulating Substrates Utilizing the Evanescent Perturbation Method ", IEEE Trans. Microwave Theory Tech., vol. 54,no. 2, pp. 522-532, Feb. 2006.
Specifications
(Provisional Figures)
Frequency range
0.8 - 18GHz
Frequency point
5 discrete frequency points
Measurement range
ε: 1-15   tanδ: 0.001-0.1
Max. measurement error
ε: ±1%    tanδ: ±5%
Sample Shape
Arbitrary shape with at least one flat surface.
10mm × 10mm × 0.5mm or the larger.
FAQ
General
Materials to be tested
System Option
Related product